Kuahiwi Ranch Natural Beef
Posted on Feb 1, 2013 in SOQ Companies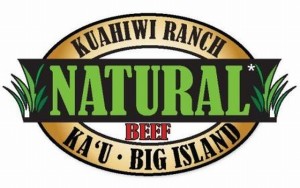 Kuahiwi Ranch Natural Beef 
P.O. Box 24
Naalehu, HI 96772
Contact: Michelle Galimba
Phone: (808) 430-4927
E-mail: mgalimba@kuahiwiranch.com
Website: www.kuahiwiranch.com
In the lush uplands of Kau, Kuahiwi Ranch is one of Hawaii's producers of locally-grown, free-range beef raised without antibiotics or artificial hormones.  The Kuahiwi family ranch is run by three generations of the Galimba family.  Established in 1993, the ranch operates 10,000 acres between Wood Valley and Waiohinu, with pasture between sea-level up to 2100' elevation. 
With 10 employees, Kuahiwi Ranch has a dedicated and tight-knit team of workers. According to rancher, Alfred Galimba, a key step is "always improving how we raise our cattle and grass."
Michelle Galimba, another rancher for Kuahiwi also mentions, "We combine the best of grass-fed and grain-finished methods to produce beef of consistent quality with lots of flavor." What makes their beef high quality Hawaii-made products is the care taken at every step of production as well as having a great team.
Local companies like these ensure future generations of farmers will pass down the legacy of Hawaiian products that possess the Aloha and care that local products are famous for.  Kuahiwi Ranch products can be found at local Foodland Farms, and select Foodland stores on Oahu, Maui and Kauai.