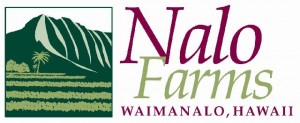 Nalo Farms, Inc.
41-574 Makakalo Street
Waimanalo, Hawaii  96795
Contact: Kuulei Naeole
Phone: (808) 259-7698
Fax: (808) 259-6771
E-mail: info@nalofarmsinc.com
http://hanawahine05.wixsite.com/nalofarms
Since 1983, Nalo Farms has produced a variety of greens for the local community, popular especially among restaurants. The company later expanded its product line to include salad dressings. The farm is located in Waimanalo, nestled below the Koolau mountains, and employs 10 people.
"Our products have the best flavor because of the unique weather and soil in Hawaii," says Dean J. Okimoto, president. "We are able to grow greens with more pungent flavors than greens grown in the mainland."
Among the company's greens are: Dean's Greens, a gourmet salad of baby lettuces and greens; Asian Greens, a blend of various Asian leafy greens; Healthy Greens, a savory mix of spinach and tatsoi; baby spinach; baby arugula; and Koolau Mountain Greens, gourmet greens packaged in bulk for food service operations.  Freshness is key to the farm's success. Its mission statement reads: "We cut in the morning, we pack midday, we deliver in the afternoon, and it's on the customer's plate that night."
Product quality is maintained through attention and care; everything is done by hand — harvesting, processing and packaging. "Quality means excellence," says Leslie Hanawahine, field operations manager. "We always strive to provide customers with what they want, when they need it and insure our products are always fresh to the chef."
Salad dressings are available in Hawaii Sweet Onion and Creamy Honey Herb. The farm also offers fresh herbs.
Products are available for purchase through the farmers' markets at Kapiolani Community College and in Kailua. They will soon be offered through local supermarkets.