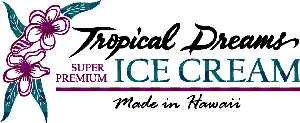 Tropical Dreams Ice Cream
66-1250 Lalamilo Farm Road
Kamuela, Hawaii  96743
Contact: John R. Edney
Phone: (808) 885-8820
Fax: (808) 885-8812
E-mail: john@tropicaldreamsicecream.com
www.tropicaldreamsicecream.com
Tropical Dreams Ice Cream has been producing its superpremium and premium ice creams since 1987. In 2006, it was voted the best ice cream on the Big Island by readers of West Hawaii Today. It also was chosen by James Beard award-winner Emily Luchetti for her most recent dessert cookbook.
Considered a superpremium ice cream, Tropical Dreams Ice Cream contains 18 percent butterfat and local ingredients — cream from local dairies and, as much as possible, local fruit, such as white pineapple, poha and ohelo berries, mango, passion fruit and guava. Little air is mixed in during the freezing process, resulting in a rich, dense ice cream. Over 150 flavors are available.
Tropical Dreams has been recommended by "Hawaii the Big Island Revealed" guidebook, which suggests, "Also consider stopping by Tropical Dreams. They have outstanding ice cream. We unselfishly review it every time we are here."
In addition to its ice cream, the company also produces sorbets and yogurts and owns a vegetable processing plant and 15 vegetable greenhouses. It plans one day to grow its own fruit, to be used in the making of the ice creams and sorbets.
Tropical Dreams Ice Cream is served in restaurants, hotels and ice cream shops throughout Hawaii. It can be purchased direct from the farm as well as through the company's website (available this spring).