Chair Kokubun on Hawaii Island Sustainable Ag Tour
Posted on Oct 17, 2013 in Main
HDOA Chairperson Russell S. Kokubun, special assistant Ken Kakesako and economic development specialist Michael Opgenorth attended a sustainable agriculture tour last week on Hawaii Island.  The tour was hosted by several local biodiesel companies to get a full picture of their biofuel production model on the island.  Also on the tour were several state legislators, farmers, ranchers and biodiesel fuel consumers. 
Pacific Biodiesel Magazine, a national publication, covered the tour.  To view the article, go to:  http://www.biodieselmagazine.com/articles/9363/pacific-biodiesel-hippo-host-hawaii-sustainable-agriculture-tour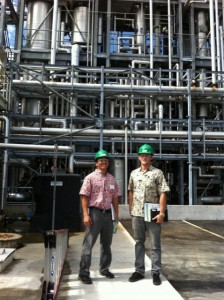 From left:  Ken Kakesako and Michael Opgenorth in front of the Pacific Biodiesel plant in Keaau, Hawaii.