Christmas Trees Arrive With Less Pests!
Posted on Nov 20, 2013 in Main
The first shipment of Christmas trees arrived over the weekend and out of about 60 containers, only six had to be held for treatment of slugs.  Last year, about half of the containers had to be held for treatment or returned to the Mainland.  
What made the difference this year?  The Oregon Department of Agriculture worked with the Hawaii Department of Agriculture and the Oregon growers to develop new protocol to reduce the amount of hitchhiking pests.  The plan seems to have worked as the trees that have come in very clean from pests.  
The six containers that were found to have a slug that is not found in Hawaii were being treated this week by hot-water treatment, a system developed by the University of Hawaii's College of Tropical Agriculture and Human Resources as a treatment for coqui frogs in potted plants. 
Earlier this month, two HDOA inspectors traveled to Oregon to observe the harvesting and packing of some of the trees that arrived this week. 
"This is a great collaboration between states that has really made a difference in protecting Hawaii," said Russell S. Kokubun, chairperson of the Hawaii Board of Agriculture.  "Hopefully the rest of the shipments will come in as clean and everyone can enjoy their holiday trees."
This coming weekend is the main shipment of Christmas trees to Hawaii and inspectors will be out again protecting Hawaii from invasive pests. Each year, about 250,000 Christmas trees are imported, mostly from Oregon and Washington State.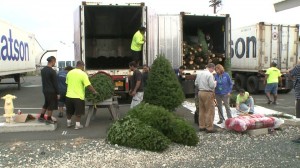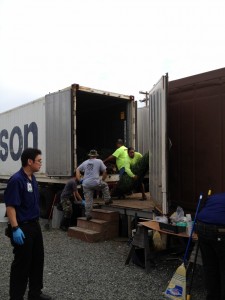 Trees are unloaded from the shipping containers and loaded into the hot water chamber on the right.
The trees are sprayed with hot water for a specified time and temperature and the water drains out the back where inspectors look for any pests.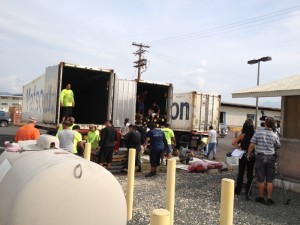 The trees are cooled down in the refrigerated containers and later opened and pounded on the ground to shake any pests loose.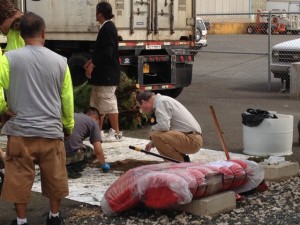 Inspectors search the loosened pine needles for slugs and any other pests.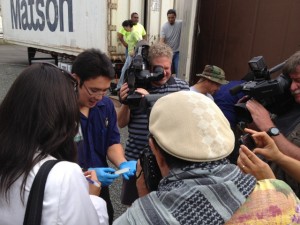 Inspector Jonathan Ho shows reporters slugs that have been found in this years trees.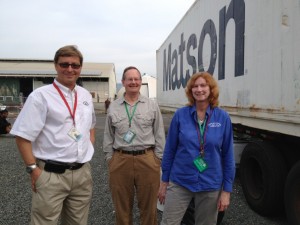 Oregon Department of Agriculture staff were on hand to watch the inspection process.  From left:  Helmuth Rogg, ODA program manager, center – James La Bonte, insect taxonomist; and right – Diana Kimberling, entomologist.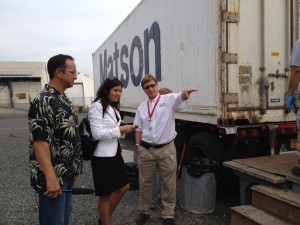 Reporters Ron Mizutani (KHON) and Cam Tran (KITV) were interested in the ODA angle.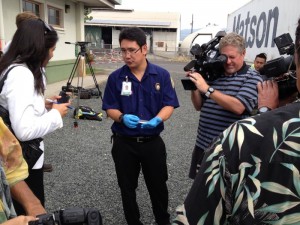 Inspector Ho also conducted interviews with all three tv news stations.