HDOA's Cream of the Crop!!!
Posted on Sep 20, 2013 in Main
HDOA held its 2013 Incentive and Service Awards Program (ISAP) ceremony this morning to recognize employees for years of service and for performance awards.
Congratulations to our Cream of the Crop!
HDOA's EMPLOYEE OF THE YEAR
Jan Ferrer, Secretary, Agricultural Loan Division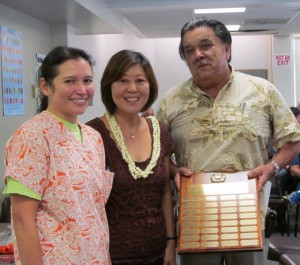 HDOA Employee of the Year, Jan Ferrer (center), is congratulated by members of the ISAP selection committee: Dr. Raquel Wong (left) and Mel Rodrigues (right)
HDOA's Employee of the Year is Jan Ferrer, secretary for the Agricultural Loan Division.  Jan has worked for the State of Hawaii for 25 years.  Over the years, Jan has consisttently worked hard and contributed much to the success of the division.  In addition to her secretarial duties, she gladly accepts additional work and duties. When an account clerk position was eliminated, she took over those duties and she also serves as escrow officer and Notary Public, making the loan processes convenient for staff and borrowers.  Jan consistently goes above and beyond to assist staff statewide and often comes in to work on her vacation days to make sure that loan payments are credited in a timely manner. 
This past year, Jan volunteered to head the department's fundraising campaign for the Hawaii Food Bank. She also volunteered to assist with the HDOA t-shirt program. She is always ready to lend a helping hand.  In her personal life, she was also active in Roosevelt High School's Project Graduation and her daughter's Girl Scout program. 
A well-deserved congratulations, Jan!  
HDOA TEAM OF THE YEAR
Fireweed Moth Release Team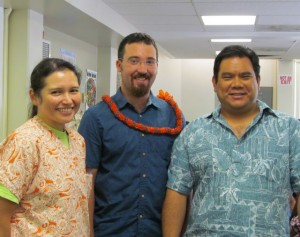 Most of the FIreweed Moth Release Team are from the neighbor islands and unable to make the ceremony. Photo:  Kona entomologist Rob Curtiss (center), Dr. Wong (left) and Darcy Oishi, Plant Pest Control Manager (right).  
Photo above:  Chair Russell Kokubun (left) and Pat Conant (right)
Photo above:  Hilo Plant Quarantine inspector Stacey Chun and fireweed plant.
Waiting for photo from:  Entomologists Mach Fukada (Maui) 
After years of waiting, the U.S. Department of Agriculture's approval for the release of the fireweed moth, Secusio extensa, as a biological control agent to fight the deadly fireweed in Hawaii's pastures took many by surprise. 
The success of the program would rely on handrearing enough of the moth in its various life stages to release on pastures particularly on Hawaii Island and Maui where the pretty, but deadly fireweed has taken over thousands of acres.  Fireweed is toxic to livestock and its invasiveness has deemed vast amounts of pastureland unusable.  
The team used their experience and ingenuity to not only raise the moth, but also to raise fireweed to feed the moths and do so on a scale larger than they had ever done before. Maui entomologist Mach Fukada built an insectary in his backyard so he could monitor the growth of the caterpillars.  Hilo entomologist Pat Conant and PQ inspector Stacey Chun would make special runs to fireweed infested areas to bring back enough fireweed to keep the caterpillars growing. They also recruited the help of area ranchers to assist in the rearing of the moths.
The work of the neighbor island crews helped to relieve Oahu insectary staff from carrying the full burden of rearing the biocontrol moths so they could focus on other biological control projects. The release of the fireweed moths are showing signs of success in decreasing the invasiveness of the fireweed.
SUSTAINED SUPERIOR PERFORMANCE
Christopher Lao, Pest Control Technician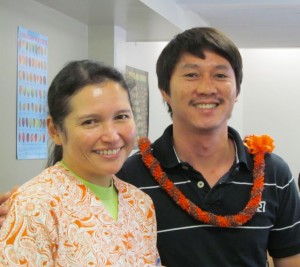 Dr. Wong (left), Christopher Lao (right)
Christopher Lao was nominated for this award because he is an employee that is "willing to do what it takes to achieve the department's goals."  Although assigned to the Plant Pathology Section, Christopher routinely assists the Chemical/Mechanical Section, the Biocontrol Section and the department's entomologists. 
His duties in the Plant Pathology Lab are many and include monitoring the negative pressure of the building, decontaminating solid waste materials and sterilizes the effluent from the containment section using toxic chemicals.  The laboratory must comply with national biosafety requirements in order to be certified.
When the department needed someone to germinate and grow donated cherry seeds from Japan in a goodwill project, Chris made it happen, planting hundreds of seedlings and carefully raising them often on his own time.
Chris also lent his hand to the Chemical/Mechanical Section helping to photograph and catalog Hawaii's plant pests and pathogens.  He has also worked to upgrade their seed herbarium, moving and labeling thousands of seeds, which helps the section as they administer the Federal Seed Act for the state.
Chris has also assisted in projects involving little fire ant, nettle caterpillar, fireweed and other plant pests.
SUSTAINED SUPERIOR PERFORMANCE
Steve Russo, Environmental Health Specialist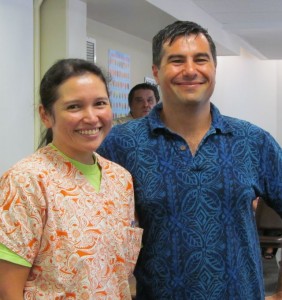 Dr. Wong and Steve Russo
Steve Russo works in the Pesticides Branch and is currently in the Certification/Education unit, which administers the test for certified pesticides applicators.  Since joining the unit in June 2012, Steve has raised the educational outreach to a higher level with fresh ideas and an eagerness to help pesticide applicators any way he can. 
Recently, he helped to coordinate a series of Farmer's Resource Workshop in collaboration with the UH College of Tropical Agriculture and Human Resources, several agencies with the USDA and the State Department of Health.  These workshops are aimed at providing useful information to farmers and are being scheduled for all islands in the state. 
Steve has been actively involved in educating farmers on the proper use of pesticides. He is currently remaking a DVD on Worker Protection Standard translated in to languages including Thai, Laotian, Mandarin and Illocano. 
SUSTAINED SUPERIOR PERFORMANCE
Kyle Yagi, Supervisor, Plant Quarantine Branch – Maui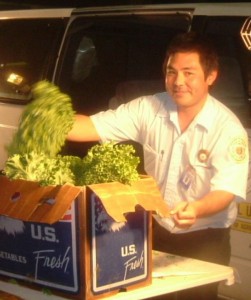 Kyle was nominated because of his calmness and thoughtfulness as a supervisor and leader.  He has taken on the duties and function of two positions, Maui supervisor position stationed at martime and the Maui master journeyman position at Kahului Airport.
Despite the heavy load of responsibilities, it was noted that Kyle continues to treat everyone with respect, not only his staff, but also many sectors of the public including vendors, marine and air cargo companies, florists, produce companies, airport and harbor officials.
Kyle is credited with streamlining the shift schedule for Plant Quarantine inspectors on Maui and decreased the number of complaints. He is open and responsive to concerns of his staff and follows up on issues in a timely manner.
His skills as a plant quarantine inspector are also keen and shares his knowledge and experience with his co-workers in a professional manner. He encourages staff to continue to broaden their knowledge and advance their educational degrees.
Kyle is dedicated to improving service to the public and looks for ways to better protect Maui from the threat of invasive species.  
HDOA SERVICE AWARDS RECIPIENTS
 The following employees were recognized for their years of service:
30 Years
Howard Kamimoto – Quality Assurance Division, Commodities Branch
20 Years
Debbie Cambra – Animal Industry, Animal Quarantine Station
Kimberli Hayashi – Fiscal Office
Wilfred Leon-Guerrero – Plant Industry Division, Plant Quarantine Branch
Jose Pascual – Animal Industry Division, Animal Disease Control Branch
Derek Shigematsu – Plant Industry Division, Pesticides Branch
Nathan Paracuelles – Plant Industry Division, Plant Quarantine Branch
10 Years
Lester Chin – Plant Industry Division, Pesticides Branch
Cynthia Kishimoto – Animal Industry Division, Animal Disease Control Branch
Irineo Pagat – Agricultural Resource Management Division
Stacey Chun – Plant Industry Division, Plant Quarantine Branch
James Nakatani – Agribusiness Development Corporation
Scenes from the ISAP ceremony on Friday, Sept. 20, 2013:
| | |
| --- | --- |
| | |
| Personnel Officer Mel Rodrigues opens the ceremony. |   |
| | |
| | |
| |   |