Invasive Species Awareness Posters at Lihue Airport
Posted on Jul 10, 2013 in Main
News Release from the Kauai Invasive Species Committee
LIHUE –
In an effort to raise the awareness level of the general public as well as residents, the Kauai Invasive Species Committee (KISC) has installed new display signage at the Lihue Airport as well as at the Nawiliwili, Young Brothers facility. The full color signs were developed in collaboration with the Hawaii Department of Agriculture (HDOA). Partnerships with the Hawaii Department of Transportation (Airports Division) and Young Brothers, Inc. made installation of the signs possible.
"Our intent is to get the word out about not only the problems associated with the invasion of alien species, but ways that the public can report them", said Keren Gundersen, KISC Manager. KISC is a grant funded voluntary partnership of government, private and non-profit organizations, and concerned individuals working together to prevent, control, or eliminate the most threatening invasive plant and animal species on Kauai.
The Hawaii Invasive Species Council originally developed the display panels installed at the airport with the Honolulu Zoo. KISC Field Operations Supervisor, Joe Kona, built three freestanding structures to exhibit the panels, which were placed in each baggage claim area as well as the main lobby.
Kauai Airports District Manager, Dennis Neves, was thrilled with the ideaofthe sign installation and made all of the arrangements to bring this project to fruition.
"This is really important information that the public should have", commented Neves. "And, while parents are looking for their luggage, their kids will have something to look at to learn more about Kauai and what should or shouldn't be here," he added. The signs installed at Young Brothers (YB) are geared more toward Kauai residents who ship or retrieve cargo inter-­‐island.
The new signs were installed almost one year from the date that Young Brothers employees helped to capture a live mongoose spotted at the docks. Since that time, constant mongoose trapping efforts by KISC have taken place at the port facility (with no further captures), as well as other pest surveys conducted by HDOA and KISC for little fire ant. Everyone who picks up cargo from the Nawiliwili facility will see these bright signs in three different locations at Young Brothers: at the payment window, in the cargo pick-­‐up area, and in the area where perishable goods are picked up. On the day of installation at Young Brothers, Tiffani Keanini (KISC Outreach Specialist) and Craig Kaneshige (HDOA Noxious Weed Specialist) gave a short presentation to all YB personnel about invasive species and provided them with Field Guides. "These guys are already doing such a great job looking for things like coqui frogs and mongoose, and these Guides will help them answer questions they might get from the public," Tiffani ofered. Wendell Kam, YB Kauai Manager, was instrumental in choosing locations for sign placement and working with the KISC crew to install them. "People are sure to see this information when they come to pick up their goods," Kam speculated. "This is definitely a good thing," he announced. "If we can alert the public to the impcts from these invasive species, then we can all work together to prevent their establishment here on Kauai," Gundersen concluded.
The public should look for these signs when visiting the ports, as well as other information posted at various sites across Kauai. Reports of pests on Kauai can be made to 643-­‐PEST (7378). Mongoose sightings should be reported to 821-­‐1490. Snake sightings should be reported immediately to 911!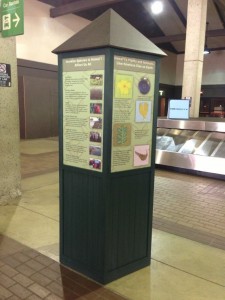 Public Awareness Posters at Lihue Airport in the baggage claim area.
From left:  Craig Kaneshige, HDOA Plant Pest Control and Dennis Neves, 
DOT Lihue Airport District Manager.