Kauai's Kaneshige Wins MVP Award!
Posted on Mar 8, 2013 in Main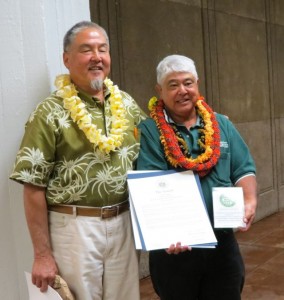 HDOA's Craig Kaneshige was awarded Kauai's MVP award during Hawaii Invasive Species Awareness Week .  A ceremony at the State Capitol Auditorium was held on Monday, March 4th.  Craig is the only Noxious Weed Specialist working in the Plant Pest Control Branch on Kauai. He has been instrumental in controlling coqui, little fire ants, long-thorn kiawe and many other invasive species. He also works closely with the Kauai Invasive Species Committee and the Hawaii Ant Lab.
Congratulations Craig!  Mahalo for all the hard work you do!
For more information on the HISC Awards, go to:  http://hisaw2013.blogspot.com/p/hisc-awards.html
You may also view the article in The Garden Island at:  http://thegardenisland.com/news/local/legislature-honors-kisc-kaneshige-for-invasive-species-work/article_b531f3aa-87b9-11e2-afb3-001a4bcf887a.html
| | |
| --- | --- |
| | |
| Craig receives his award from Kauai Rep. Dee Morikawa |  HISC members and awardees.  Go to the HISC website link above for more information on the awards. |
| | Left:  PPC crew attended the ceremonies. |