Kona Abalone Opens at Ala Moana Food Court
Posted on Feb 18, 2014 in Main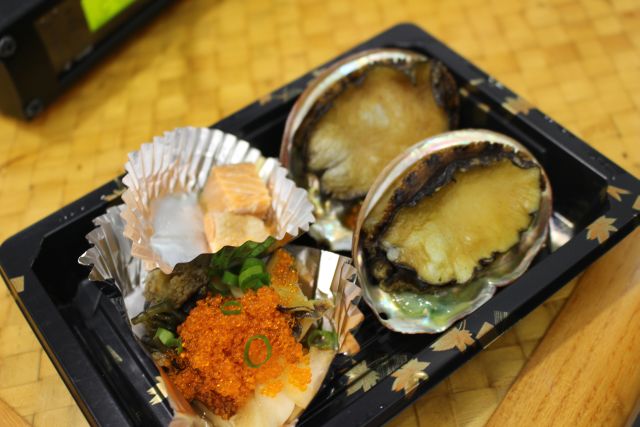 One of HDOA's Seals of Quality companies, Big Island Abalone Corporation (BIAC), opened its new shop today in the Ala Moana Center Food Court under the brand name, Kona Abalone.  
Invited guests and media were on hand as Big Island Abalone President Hiroshi Arai opened the first retail store on Oahu.   Previously, Kona Abalone could be purchased fresh off the grill at the Saturday KCC Farmers' Market.  The newly opened Ala Moana location will also sell an array of abalone including canned and vacuum-packed versions that are travel friendly for premium made-in-Hawaii gift giving.
Kona Abalone is a premium stock of Ezo (Northern Japanese) abalone grown in Kona.  BIAC's facilities include a hatchery, a nursery and abalone grow-out tanks, insuring that BIAC controls the quality of the abalone from the very start of the growth cycle. More than 15 years of research has gone into the production at BIAC.
A blend of algae is used to feed the abalone, optimizing abalone taste, texture, color, nutrition, and shell characteristics. BIAC maintains an inventory of more than four million abalone on its 10-acre site.
To read more about BIAC go to their Seals of Quality webpage: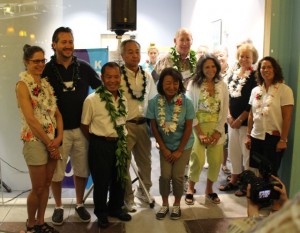 BIAC Staff and Guests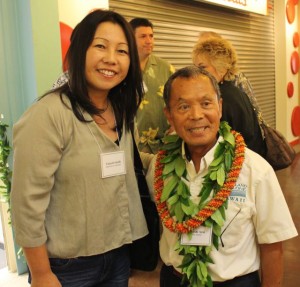 HDOA Market Development's Yukashi Smith and BIAC President Hiroshi Arai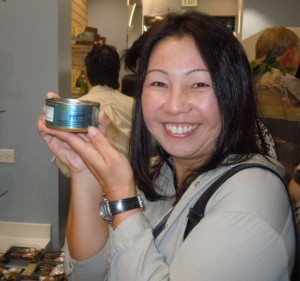 Yukashi models the canned version.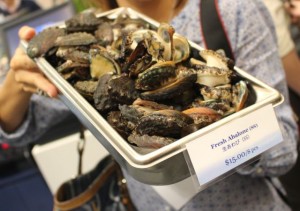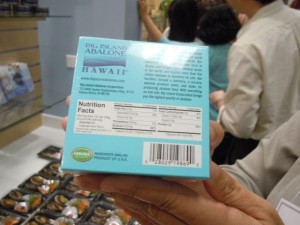 From left:   Liz Jing Xu (Aquaculture & Livestock Support), Yukashi Smith, Danille Minayoshi (Market Development), Hiroshi Arai, Hideki Yamane (Market Development).