Maui Farmers Resource Workshop – March 19
Posted on Mar 4, 2014 in Main
The multi-agency Farmers Resource Workshops will be traveling to Maui on Wednesday, March 19, 2014 from 4:30 – 7:30 p.m. at the Kula Community Center, E. Lower Kula Road.  The workshop is free!
Representatives from UH-College of Tropical Agriculture and Human Resources, U.S. Department of Agriculture, Natural Resources Conservation Service, and State Departments of Health and Agriculture will cover relevant  information, including pesticide use and food safety.  They will also give an overview of assistance that each agency may provide such as agricultural loans and marketing opportunities.
For more information and registration, contact Steve Russo, HDOA Pesticides Branch at (808) 973-9409 or e-mail:  steve.russo@hawaii.gov
To view the workshop flyer, click here.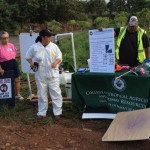 Photo from Oahu Farmer Resource Workshop