Agribusiness Development Corporation
To view the ADC Brochure (Updated January 2008), click here.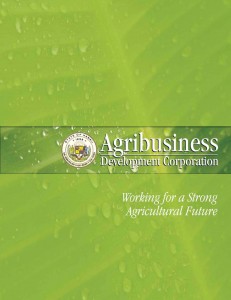 The Agribusiness Development Corporation was established in 1994 (Act 264, Session Laws of Hawaii 1994, and codified in chapter 163D, Hawaii Revised Statutes) to facilitate and provide direction for the transition of Hawaii's agriculture industry from a dominance of sugar and pineapple to one composed of a diversity of different crops.
The mission of the Agribusiness Development Corporation (ADC) is to acquire, and manage in partnership with farmers, ranchers, and aquaculture groups, selected high-value lands, water systems, and infrastructure for commercial agricultural use and to direct research into areas that will lead to the development of new crops, markets, and lower production costs.
Its main goals are:
Goal 1: Transition former plantation land and water systems for diversified agriculture.
Goal 2:  Initiate development of facilities and provide support as necessary for successful diversified agriculture.
Goal 3:  Provide solutions to certain bottleneck issues facing the agriculture industry.
Since its inception, ADC has taken advantage of its unique position to coordinate federal, state and private resources to maximize agribusiness opportunities. ADC has developed expertise to handle large tracts of agricultural lands and major irrigation systems.  Currently ADC has projects on all the main islands of Hawaii.
NEW!
Kekaha Mauka Lands
The Agribusiness Development Corporation (ADC), an attached agency to the Hawaii Department of Agriculture, desires to license 740 acres of vacant land in Kekaha, Mauka on the West end of the island of Kauai.
This is former sugar cane land located mauka of the Mana Plain.  The acreage has available water (source, amount, and distribution system) would be subject to negotiation with the Kekaha Agriculture Association (KAA).
For more information, please contact the ADC at (808) 586-0186.
Galbraith Land Information:
On December 10, 2012, the Agribusiness Development Corporation (attached agency to HDOA) closed the purchase of 1,200 acres of agricultural land in Wahiawa, Oahu, formerly owned by the Galbraith Estate.  Planning has begun.  Farmers interested in the Galbraith lands should call 808-586-0186 for more information.
The deadline to submit applications was close of business, April 5, 2013.
Special Reports
Agribusiness Development Corporation
State Office Tower
235 S. Beretania St.
Room 205
Honolulu, Hawaii 96813
Phone: (808) 586-0186
Fax: (808) 586-0189