Coconut Rhinoceros Beetle Information
Posted on Jan 15, 2014 in Main
Coconut Rhinoceros Beetle (adult)
UPDATE!
A public meeting was held on CRB on Thursday, September 25, 2014 at the Ewa Beach Library.
The U.S. Department of Agriculture and the Hawaii Department of Agriculture provided information about the Coconut Rhinoceros Beetle (CRB) infestation found on portions of the south shore of Honolulu County, including the City of Honolulu.
Team members also provided nformation about the infestation, the insect, and the efforts to eliminate the beetle from the area.
To print the meeting flyer, click here.
DISLODGED CRB TRAPS
The public is asked to report CRB panel traps that may be blown down. Dislodged traps may be reported by either calling the CRB hotline at 832-0585 or by e-mail at:  stoprhino@gmail.com
More than 1,600 panel traps have been deployed around Oahu.
Mahalo!
NEWS RELEASES
**See bi-weekly updates below***
The Coconut Rhinoceros Beetle (CRB), a serious invasive pest, was detected on Dec. 23, 2013 on Joint Base Pearl Harbor – Hickam on coconut trees.
Since the detection, a joint effort between the U.S. Department of Agriculture (USDA), the University of Hawaii @ Manoa (UH), the U.S. Navy, the Hawaii Department of Agriculture (HDOA) and other partners have mobilized surveying, trapping and control efforts in the area where the beetle was found.  The Incident Command System (ICS) has been established to help manage the various agencies and activities needed to efficiently respond to this pest emergency.
CRB is a major pest of palms in India, the Philippines, the Palaus, Fiji, Wallis, Nukunono, American and Western Samoa and Guam. CRB is native to the Asian tropics, but was accidentally introduced to western and central Pacific islands. It is not known exactly how the beetles arrived in Hawaii.
CRB is mainly a pest of coconut and oil palms, but may also attack other palm species. Adult CRB are dark brown in color and measure 1 ¼ to 2 ½ inches long. CRB larvae are white in color with a brown head.
They damage palms by boring into the center of the crown where they injure young, growing tissue and feed on the sap. As they bore into the crown, they cut through developing leaves, causing damage to the fronds. V-shaped cuts in the fronds and holes through the midrib are visible as leaves mature and unfold.
Suspected CRB on coconut and palm plants on all islands should be reported to HDOA's PEST HOTLINE – 643-PEST (7378). This is also a toll-free number for neighbor islands.
**************
**************
MEDIA ARTICLES:
Hawaii News Now – April 29, 3014 – Beetles Found Extends Buffer Zone
Honolulu Star-Advertiser – Feb. 21, 2014 - Navy Assisting in Beetle Eradication
Hawaii News Now – Feb. 20, 2014 – Hundreds of Beetles Captured
CNN – Feb. 9. 2014 – Meet the Beetles
KHON News – Feb. 4, 2014 - Major Effort to Eradicate Coconut Rhinoceros Beetle
KITV News – Jan. 21, 2014 - Experts from Guam assist
Hawaii News Now Sunrise Morning Show w/ Howard Dicus – Jan. 14, 2014
Honolulu Star-Advertiser – Jan. 10. 2014
 *************
PHOTOS OF CRB DAMAGE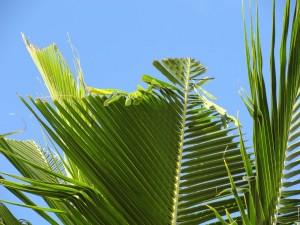 Feeding damage in V-shaped pattern on leaves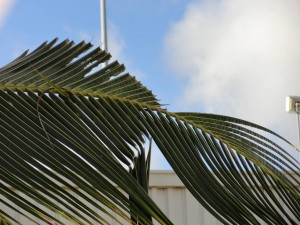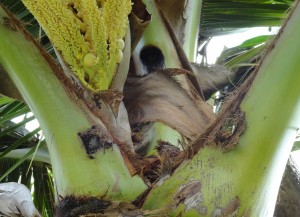 Boring holes on the trunk of coconut tree