Kamehameha Kindergarteners visit Plant Quarantine
Posted on Feb 27, 2019 in Main
On February 12, 2019, 40 kindergarteners and 25 teacher/chaperones from Kamehameha Schools visited the Plant Quarantine Branch near Sand Island to learn about invasive species and work that the Plant Quarantine inspectors do to protect Hawaii. Plant Quarantine Education Specialist Kent Dumlao coordinated the presentation, including live and preserved insect and animal displays.
In the photo below, Kailee Lefebvre of the Coconut Rhinoceros Beetle Response Team educates the students on the beetle and why it's so important to stop its spread on Oahu.
HDOA hopes to inspire these potential scientists to pursue future careers in the agricultural sciences and fight against invasive species.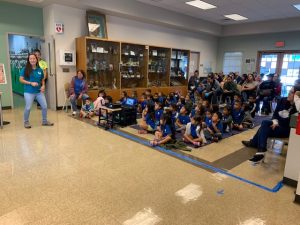 ​