Market Development Branch
The mission of the Market Development Branch is to facilitate the development of the agricultural industry, consisting of commodity groups of agricultural producers and food processors, through the expansion of new and existing markets.  This branch assists Hawaii producers by sponsoring or participating in numerous projects and activities.
---
MARKETING PROGRAMS
| | | |
| --- | --- | --- |
| Hawaii heavily depends on imported food. We need to increase local production and food security. Keep our money and jobs in Hawaii. We promote "Buy Local It Matters" campaign! | "Seal of Quality" Branding Program. True Hawaii-grown or Hawaii-made premium products with over 51% Hawaii ingredients will qualify for the program. Asian market loves official credential. | Differentiate Hawaii products from products made elsewhere yet called Made in Hawaii. 51% or more cost must be incurred in the state |
---
TRADE SHOWS & EVENTS

   
HDOA coordinates following trade shows in Hawaii, mainland and global markets in 2017.
---
Use a quick & easy on-line booth application form to express your intention to participate. One of our representatives will contact you to discuss about qualification and application fee.           APPLY NOW!
---
FUNDING 
HDOA Sponsorship Product Promotion (SPP)
REQUEST FOR PROPOSALS
EXPORT ASSISTANCE

We work with Western United States Agricultural Trade Association (WUSATA). We help agribusinesses explore, enter and expand into the global market place
LIST OF WUSATA ACTIVITIES FOR 2017 (TBA)
Gulf Food Show, Dubai (February 26 – March 2)
Taiwan Inbound Buyers Mission to Maui (March 7)
HOFEX, Hong Kong (May 8-11)
JAPAN Inbound Buyers Mission to Honolulu (July 17-21)
Canada Inbound Buyers Mission to Honolulu (July 17-21)
KOREA Inbound Buyers Mission to Honolulu (Summer)
ASEAN Inbound Buyers Mission to Honolulu (August 18-19)
For more information on those activities, check WUSATA website.
---
PROJECTS
Buy Local, It Matters Vegetable and Fruits Seasonality Chart
Hawaii Agricultural and Food Products Directory : A database of Hawaii agricultural producers and products
Farmers' Market Listing : The most comprehensive listing of farmers' markets around the state.
---
RESOURCES
Buy Local, It Matters – Eat Local Food Hacks
Top 10 Imported Commodities to Hawaii
Provides data for local farmers who wish to grow and replace these imported foods.
Foodland Super Market's Eat Local Tuesdays kick off
Funding provided through an HDOA grant for high school students to help promote local foods in in-store sampling activities.
A listing of future ag-related events
Breadfruit- From Tree to Consumer (2014)
Breadfruit Marketing Materials
Breadfruit Informational Video

---
PLEASE CONTACT US IF YOU ARE:
a Hawaii producer of an agricultural product or a manufacturer of a food product looking for promotional assistance or a market for your product, or
a company wanting to be included or update information in our Hawaii Agriculture & Food Products Directory; fill out our Product Registration Form, or
an individual or firm engaged in marketing an agriculture or food product from Hawaii and needing marketing information, or
a non-profit agricultural or food manufacturing commodity association needing assistance in generic product promotion.
CONTACT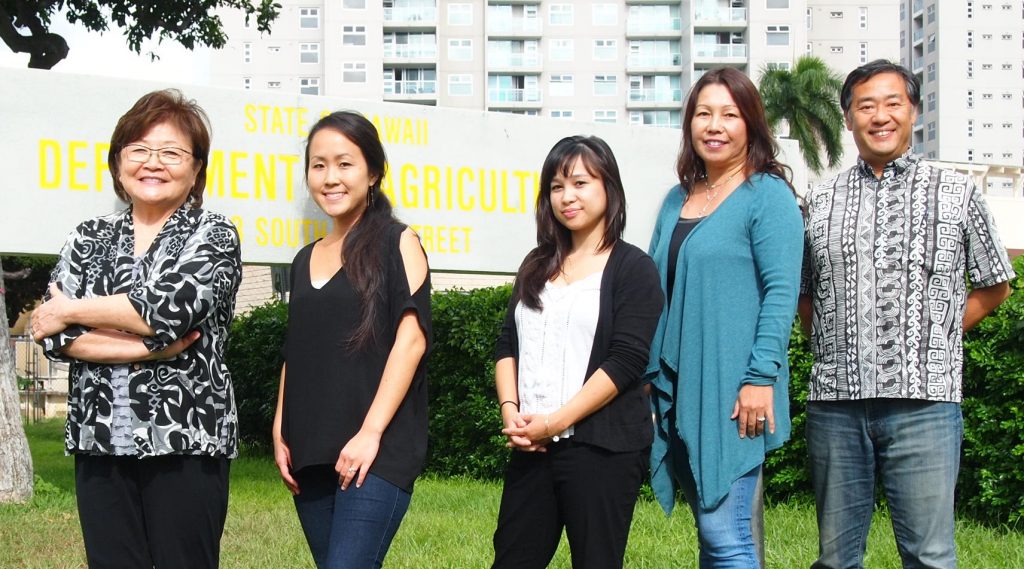 Hawaii Department of Agriculture
Agricultural Development Division
Market Development Branch
1428 South King Street
Honolulu, HI, 96814-2512
Phone: (808) 973-9595
Fax: (808) 973-9590
E-mail: hdoa.md@hawaii.gov