INFORMATION ON LITTLE FIRE ANTS ON OAHU AND MAUI
Posted on May 2, 2014 in Main
Worker LFA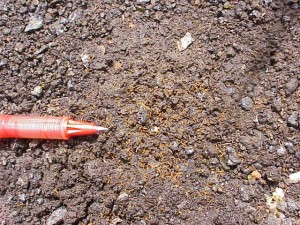 LFA infestation
* * * * * * 
LFA UPDATE – MAUI INFORMATIONAL MEETING –

Wednesday, December 10, 2014
Helene Hall, Hana
5:00 p.m.
To view and download informational flyer, click here.
* * * * * * 
LFA UPDATE IN MILILANI on MONDAY, OCTOBER 13, 2014
Hawaii Department  of Agriculture personnel reported that there has been good progress in the treatment of the residential area in Mililani Mauka that is infested with LFA.  
So far, crews have completed two rounds of treatment using the pesticide, Tango (in tall trees), and ant baits, Siesta and Probait (on the ground),  in the 6-acre area, which includes a buffer zone.  
Surveys indicate that the LFA population has been significantly reduced to the point where LFA is not being detected along the borders of the treatment zone. 
After the second treatment, residents in the treatment zone were asked to survey their yards for LFA and about half of the residents did so. Of those samples, all of the samples were negative for LFA.
Six more treatments are scheduled for the area with the last one scheduled for May 2015. Spot surveys will continue to check for LFA populations.
HDOA would like to recognized the Hawaii Ant Lab, Dr. Cas Vanderwoude and his staff, and assistance from the Oahu Infasive Species Committee crews.  Also, Mahalo to the residents, the Mililani Town Association and the property owners who have made special accommodations to allow us to conduct our surveys and treatments.
The public should report concerns of LFA infestation to the state's pest hotline at 643-PEST (7378).
 * * * * * * * * * * * *
INFORMATIONAL MATERIAL ON LFA
LFA News Releases from HDOA
| | |
| --- | --- |
| DATE | TITLE |
| Oct. 3, 2014 | |
| June 27, 2014 | |
| | |
| June 18, 2014 | |
| May 15, 2014 | |
| May 2, 2014 | |
| Dec. 31, 2013 | |
* * * * * * * * * * * * * * * * *
April 7, 2014
On March 27, 2014, a HDOA survey crew detected little fire ants in an area outside of two nurseries in Waimanalo.  On April 3rd, a multi-agency response team conducted an extensive survey of the area to determine the extent of the infestation.  About 1,000 samples were taken and logged by GPS. Analysis and mapping will take about one week. The survey was headed by HDOA and included staff from the U.S. Fish & Wildlife Service, Oahu Invasive Species Committee and the University of Hawaii.
At this time, the little fire ant is not established in any nurseries in Waimanalo to our knowledge. Repeated surveys inside the nurseries and on the nursery stock have not captured any little fire ants.
* * * * * * * * * * * * * * * * * * * * 
Jan. 15, 2014
The Hawaii Department of Agriculture (HDOA) has confirmed that an invasive stinging ant called the Little Fire Ant (LFA) has spread from Hawaii Island to Oahu and Maui.
On Dec. 23, a customer at garden shop on Maui reported a suspicious ant to the Maui Invasive Species Committee (MISC), which sent the specimens to HDOA entomologists who confirmed the identification of LFA.
On Dec. 26, HDOA entomologists surveyed several nurseries and stores and found LFA infestations on hapuu (Hawaiian tree fern) at several garden shops on Oahu and at another Maui store.  All infested hapuu were contained and the areas secured.
HDOA is asking the public's help in surveying for LFA in their yards by using peanut butter bait sticks to attract LFA, then freezing the ants in a sealed plastic freezer bag for at least 24 hours and call HDOA's Pest Hotline at 643-PEST (7378)
HDOA is advising those who recently purchased hapuu logs or planters to contain the logs by placing them in a plastic or garbage bag and seal it securely.  They should contact their nearest HDOA office as soon as possible.
Maui – (808) 872-3848
Oahu – PEST HOTLINE – 643-PEST (7378).  This is also a toll-free number for neighbor islands.
"It is important that those who have recently purchased hapuu which may be infested with little fire ants to help contain the infestation and contact us as soon as possible," said Dr. Neil Reimer, administrator of HDOA's Plant Industry Division. "Through past experience, we know we can contain an infestation if we find it in its early stages."
Originally from South America, LFA is considered among the world's worst invasive species.
LFA are tiny ants, measuring 1/16th inch long, are pale orange in color and move slowly. LFA move slowly, unlike the Tropical Fire Ant which is established in Hawaii, move quickly and are larger with a larger head in proportion to its body. LFA can produce painful stings and large red welts and may cause blindness in pets. They can build up very large colonies on the ground, in trees and other vegetation and completely overrun a property. They will also freely move into homes.
The first detection of LFA in Hawaii was in the Puna area in 1999. Surveys determined that LFA appeared to have been on the east side for several years prior to their initial detection and was widely distributed in Puna. Attention was then focused on controlling ant populations and preventing the spread to non-infested areas on the island and to other islands.
In October 2009, LFA was detected on a farm in Waihee, Maui. Eradication efforts at that site appear to have contained the infestation, which is being continually monitored. HDOA staff also trained Maui County employees, MISC and private pest control operators on Maui to assist in recognizing and reporting possible infestations on the island. MISC is also assisting HDOA in conducting surveys at high-risk areas on Maui.
*******
OTHER RELATED LINKS:
UH-CTAHR Master Gardener Webpage
*******
MEDIA COVERAGE:
News coverage on infestation in Nahiku, Maui
News coverage on Infestation in Mililani Mauka
Honolulu Star-Advertiser – Sept. 29, 2014 - City Workers Learn How to Kill LFA and CRB
Hawaii News Now – April 2, 2014 – Infestation in Waimanalo
Honolulu Star-Advertiser – April 4, 2014 - State crews tackle coqui frog reports, little fire ants.
Hawaii News Now Sunrise Morning Show – Jan. 14, 2014