LITTLE FIRE ANTS ON OAHU AND MAUI
Posted on May 2, 2014 in Main
Worker LFA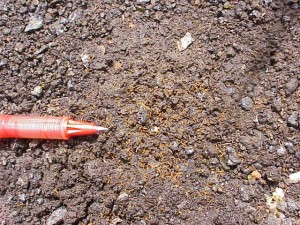 LFA infestation
February 19, 2015
Little Fire Ants in Mililani Mauka Disappearing
Eradication Program Showing Signs of Success
To view news release, click here.
See below for news media coverage.
* * * * * * 
More Little Fire Ants reported on Maui:
MAUI NEWS
Little fire ant infestations reported in Huelo, Haiku
Latest encounter with stinging insect 'discouraging,' says MISC head
January 28, 2015
By CHRIS SUGIDONO – Staff Writer (csugidono@mauinews.com) , The Maui News
A little fire ant infestation has been discovered in Huelo and at a single property in Haiku – marking the fifth time the invasive species has evaded quarantine and established itself on Maui over the past year.
Maui Invasive Species Committee Manager Teya Penniman said the new infestations are discouraging.
"It's another example that despite our best efforts, the ants are getting through our quarantine measures, which clearly don't have enough resources to stop it," Penniman said Tuesday.
At least five to seven properties are involved in the new infestation in Huelo. A resident was picking fruit when he was stung by small orange ants and reported it to MISC.
MISC surveyed and took samples on the property on Jan. 16. Additional surveys of adjacent properties and the surrounding area were conducted five days later and found roughly 3 acres involved, Penniman said.
She speculated that the ants may have been there for at least several years.
Penniman said she is unsure if the ants have gotten into homes in the area, but that the infestation has remained mostly outside. She said no one has been displaced, and residents and neighbors are being asked not to move materials, which might be infested, off their properties.
"We'll be working with the Hawaii Ant Lab and state Department of Agriculture to develop a control plan," she said, adding that landowners have been accommodating so far. "The Ant Lab has developed the best treatments, and they've been kind of our saviors in trying to figure out how to tackle this problem."
The Huelo and Haiku discoveries are the ninth little fire ant infestations on Maui since 2009, when an organic farm in Waihee was found to be infested. The infestation covering about a half acre was declared successfully eradicated in March last year.
A recent flurry of reports and discoveries of the dreaded pest began on Dec. 23, 2013, after a shipment of infested hapuu logs arrived in Maui from the Big Island. Small populations of the ants were later found at several retail stores, Andaz Maui at Wailea and a nearby South Maui condominium.
Another infestation, not related to the Dec. 23 discovery, was reported in Nahiku and involved at least 20 acres along Hana Highway – the largest wildland infestation by far reported on Maui.
Initial treatments around houses, vehicles and roads have been completed in Nahiku, but MISC and Hawaii Ant Lab workers have not been able to treat the entire area due to the rugged terrain.
"That's going to take awhile to fully get into the entire area and figure out the best approach," Penniman said.
One house in Nahiku has been infested, Penniman said. She said it was still early enough for workers to treat the home and that if it had been left alone longer, it would have been much more difficult.
"You can see the ants running along irrigation lines outside the house and running along the aluminum guides on the door," she said. "They're definitely right there."
MISC workers and others are continuing to treat the area every six weeks and staff from the Hawaii Ant Lab will be helping in the first two weeks of February, Penniman said. She said the staff also will look at the two new infestations at Huelo and Haiku.
The origins of the latest infestations are being studied, though, the larger they are, the more difficult it*becomes, Penniman said. She said there is no hope of determining the origins of the Nahiku ants, which have been there for a number of years.
"We have no idea on that one and probably will never know," she said.
A community meeting on how to combat the Huelo and Haiku infestations will be held within a month, Penniman said. She encouraged people to attend and said she was happy that the latest discovery was reported by a resident.
"That means people are increasingly aware of the problem and recognize that they should report it. So that is a very positive part of this," she said. "But it's also an indication that there are more populations out there that we just don't know about.
"It's super important for people to be aware of the problem and report it."
The little fire ant is considered one of the world's worst invasive species. The pale orange ant originates in South America. It is only 1/16th of an inch long and moves slowly, unlike the tropical fire ant already established in Hawaii. Little fire ants can build up large colonies on the ground, in trees and other vegetation, and in buildings and homes. They can completely overrun a property.
The invasive ants are attracted to moisture and will crawl into the eyes of animals and sting them after the animal reacts. There has been an increase in blind cats and dogs on the Big Island due to the ants.
The ants can deliver painful stings to humans, leaving large red welts on the skin.
The tiny ant was first detected in the state on the Big Island in 1999.
Suspected invasive species sightings should be reported to the state's toll-free pest hotline by calling 643-7378. For more information, go to hdoa. hawaii.gov/pi/main/lfainfo/.
* * * * * * 
INFORMATIONAL MATERIAL ON LFA
LFA NEWS RELEASES FROM HDOA
| | |
| --- | --- |
| DATE | TITLE |
| Oct. 3, 2014 | |
| June 27, 2014 | |
| | |
| June 18, 2014 | |
| May 15, 2014 | |
| May 2, 2014 | |
| Dec. 31, 2013 | |
INFORMATIONAL MEETING UPDATES
* * * * * * * * * * * * * * * * *
April 7, 2014
On March 27, 2014, a HDOA survey crew detected little fire ants in an area outside of two nurseries in Waimanalo.  On April 3rd, a multi-agency response team conducted an extensive survey of the area to determine the extent of the infestation.  About 1,000 samples were taken and logged by GPS. Analysis and mapping will take about one week. The survey was headed by HDOA and included staff from the U.S. Fish & Wildlife Service, Oahu Invasive Species Committee and the University of Hawaii.
At this time, the little fire ant is not established in any nurseries in Waimanalo to our knowledge. Repeated surveys inside the nurseries and on the nursery stock have not captured any little fire ants.
* * * * * * * * * * * * * * * * * * * * 
Jan. 15, 2014
The Hawaii Department of Agriculture (HDOA) has confirmed that an invasive stinging ant called the Little Fire Ant (LFA) has spread from Hawaii Island to Oahu and Maui.
On Dec. 23, a customer at garden shop on Maui reported a suspicious ant to the Maui Invasive Species Committee (MISC), which sent the specimens to HDOA entomologists who confirmed the identification of LFA.
On Dec. 26, HDOA entomologists surveyed several nurseries and stores and found LFA infestations on hapuu (Hawaiian tree fern) at several garden shops on Oahu and at another Maui store.  All infested hapuu were contained and the areas secured.
HDOA is asking the public's help in surveying for LFA in their yards by using peanut butter bait sticks to attract LFA, then freezing the ants in a sealed plastic freezer bag for at least 24 hours and call HDOA's Pest Hotline at 643-PEST (7378)
HDOA is advising those who recently purchased hapuu logs or planters to contain the logs by placing them in a plastic or garbage bag and seal it securely.  They should contact their nearest HDOA office as soon as possible.
Maui – (808) 872-3848
Oahu – PEST HOTLINE – 643-PEST (7378).  This is also a toll-free number for neighbor islands.
"It is important that those who have recently purchased hapuu which may be infested with little fire ants to help contain the infestation and contact us as soon as possible," said Dr. Neil Reimer, administrator of HDOA's Plant Industry Division. "Through past experience, we know we can contain an infestation if we find it in its early stages."
Originally from South America, LFA is considered among the world's worst invasive species.
LFA are tiny ants, measuring 1/16th inch long, are pale orange in color and move slowly. LFA move slowly, unlike the Tropical Fire Ant which is established in Hawaii, move quickly and are larger with a larger head in proportion to its body. LFA can produce painful stings and large red welts and may cause blindness in pets. They can build up very large colonies on the ground, in trees and other vegetation and completely overrun a property. They will also freely move into homes.
The first detection of LFA in Hawaii was in the Puna area in 1999. Surveys determined that LFA appeared to have been on the east side for several years prior to their initial detection and was widely distributed in Puna. Attention was then focused on controlling ant populations and preventing the spread to non-infested areas on the island and to other islands.
In October 2009, LFA was detected on a farm in Waihee, Maui. Eradication efforts at that site appear to have contained the infestation, which is being continually monitored. HDOA staff also trained Maui County employees, MISC and private pest control operators on Maui to assist in recognizing and reporting possible infestations on the island. MISC is also assisting HDOA in conducting surveys at high-risk areas on Maui.
*******
OTHER RELATED LINKS:
UH-CTAHR Master Gardener Webpage
*******
MEDIA COVERAGE:
News coverage on update in Mililani Mauka
News coverage on infestation in Nahiku, Maui
News coverage on Infestation in Mililani Mauka
Honolulu Star-Advertiser – Sept. 29, 2014 - City Workers Learn How to Kill LFA and CRB
Hawaii News Now – April 2, 2014 – Infestation in Waimanalo
Honolulu Star-Advertiser – April 4, 2014 - State crews tackle coqui frog reports, little fire ants.
Hawaii News Now Sunrise Morning Show – Jan. 14, 2014