National Honey Queen Visits Hawaii
Posted on Oct 28, 2013 in Main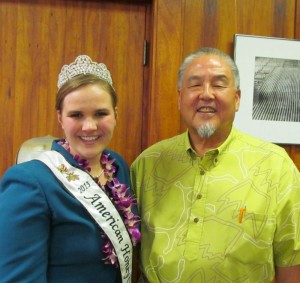 American Honey Queen Caroline Adams visited with HDOA Chairperson Russell Kokubun in his office.
The American Honey Queen, Caroline Adams, is in Hawaii and begins a week-long tour in Honolulu and the Big Island.   Queen Adams began her day early as a guest on the KHON Wake Up 2day show where she talked about her work as Honey Queen and the importance of bees to agriculture and our environment.  She was joined on the morning show by Hawaii apiarist Danielle Downey, who gave KHON's Olena Heu a taste of Hawaiian honeys.  
After the show, Danielle and Lauren Russert, who is also with the Hawaii bee program, whisked Caroline off to Punahou School where she made several presentations to different classes.  She also visited with students at the Hawaii School for the Deaf and Blind and made a special connection there as Caroline majored in American Sign Language.
The Honey Queen will fly to Hilo on Tuesday where she is scheduled to visit Hilo High School, Waiakea School, Connections Elementary, Island Natural Health Food Store, and other venues.
On Saturday night, Nov. 2, Ms. Adams will be the special guest at the Big Island Beekeepers Association Gala at the Nani Mau Gardens. She will be at a workshop earlier in the day at Nani Mau Gardens.
The American Honey Queen is a program of the American Beekeeping Federation. She is being hosted by the Hawaii Beekeepers Association for this trip to Hawaii. 
For more information on the American Beekeeping Federation, go to: http://www.abfnet.org/displaycommon.cfm?an=1&subarticlenbr=10
2013 American Honey Queen – Caroline Adams
Caroline Adams is the daughter of Ned and Caryl Adams of Plano, Texas. She began beekeeping six years ago through the Collin County Hobby Beekeepers Association and currently maintains three beehives. Caroline is a student at Collin College in Plano, Texas, where she is majoring in American sign language. In her spare time, Caroline enjoys playing and teaching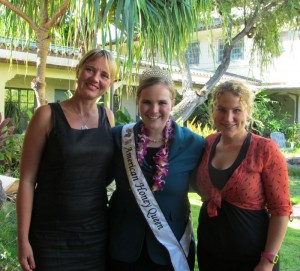 Hawaii apiarist, Danielle Downey (left), American Honey Queen Caroline Adams (center), Lauren Russert, Hawaii Apiary program.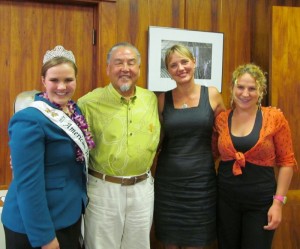 Caroline, Chair Kokubun, Danielle and Lauren in the Chair's office.