Careers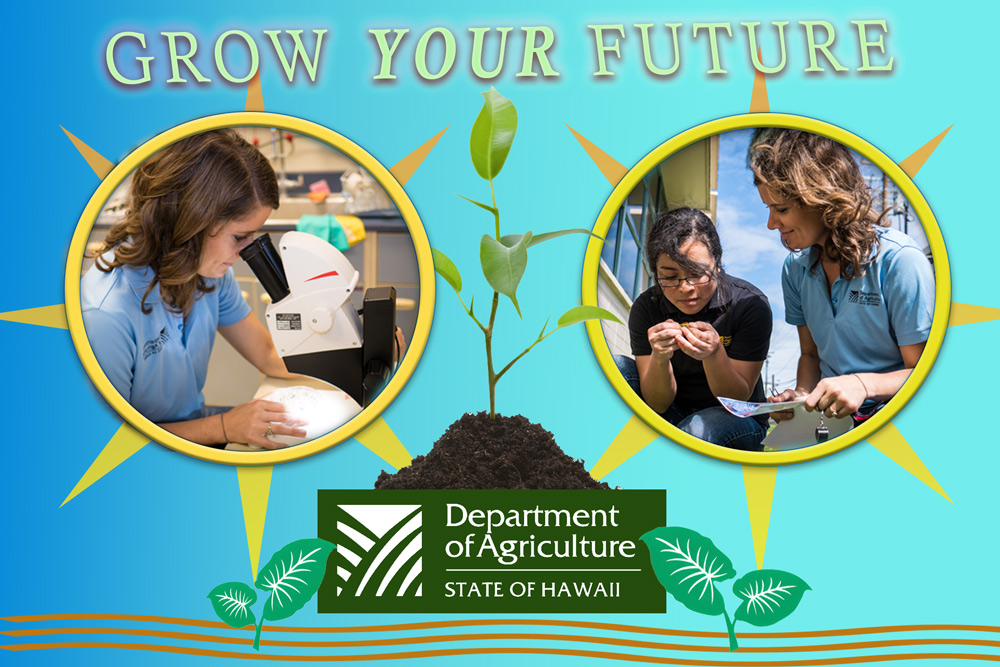 Aloha! Thank you for your interest in working for The Hawai`i Department of Agriculture.
Click on a job title below to view the detailed vacancy announcement. Application instructions vary between positions. If you are interested in applying, refer to the instructions in the specific vacancy announcement.  Mahalo!
Career Fairs
Nov. 17, 2022 – State of Hawaii Career Fair, Ke`ehi Lagoon Memorial, 2685 N. Nimitz Highway, Oahu, 9 am to 1 pm. 
CIVIL SERVICE JOB ANNOUNCEMENTS
| | | | |
| --- | --- | --- | --- |
| Job Opportunity | Recruitment # | Location | Closing Date |
| Administrative Assistant V (Temporary) | 22-0750 | Oahu | Continuous |
| Agricultural Commodities Marketing Specialist I | 22-0595 | Oahu | Continuous |
| Economist VII | 22-0643 | Downtown, Oahu | Continuous |
| Engineer IV & V | 219348 | Downtown, Oahu | Continuous |
| Engineering Technician VI & VII | 22-0686 | Oahu | Continuous |
| Entomologist III & IV | 22-00744 | Kahului, Maui | Continuous |
| Environmental Health Specialist II & III (Temporary) | 22-0770 | Kona, Hawaii Island | Continuous |
| Environmental Health Specialist III (Temporary) | 218309 | Oahu | Continuous |
| Livestock Inspector I & II | 22-0769 | Oahu | Continuous |
| Pesticides Program Manager | 22-0397 | Oahu | Continuous |
| Planner V | 22-0540 | Oahu | Continuous |
| Plant Pathologist | 22-0284 | Oahu | Continuous |
| Plant Quarantine Inspector I | 22-0506 | Oahu | Continuous |
| Plant Quarantine Inspector I | 22-0680 | Kona, Hawaii Island | Continuous |
| Plant Quarantine Inspector I | 22-0683 | Wailuku/Kahului, Maui | Continuous |
| Plant Quarantine Manager | 22-0401 | Oahu | Continuous |
| Secretary II | 22-0788 | Oahu | Continuous |
| Veterinary Medical Officer I, II, III | 22-0412 | Halawa, Oahu | Continuous |
| Veterinary Medical Officer II | 22-0070 | Maui | Continuous |
| Veterinary Program Manager | 22-0402 | Halawa, Oahu | Continuous |
NON-CIVIL SERVICE JOB ANNOUNCEMENTS