Team Aggie Helps Grow Alvah Scott Elementary School!
Posted on Oct 23, 2013 in Main
Team Aggie (made up of volunteers from HDOA) celebrated Farm-to-School Month by donating their hardwork and ag skills to help Alvah A. Scott Elementary School with their school garden on Saturday, Oct. 19th.  See photos below of the fruits of their labor!
HDOA Chair Russell Kokubun wanted to find a school that needed help and Alvah A. Scott Elementary in Aiea welcomed the HDOA volunteers to prepare their raised beds for planting and to help clear their loi on campus. The garden clean-up was part of the Kokua Hawaii Foundation's AINA in Schools program, which also provided lunch for the hardworking crew.
Team Aggie included:  Chair Kokubun, Deputy Scott Enright, Ken Kakesako (Chair), Michael Opgenorth (MD), Earl Yamamoto (Chair), Noa Ching (Chair), Laura Ayers (AI), Becky Azama and her son and his girlfriend, Tom Matsuda (PEST), Linda Murai (ARM), Avis Onaga (PEST), Malcolm Onaga (PQ-Retired) and their daughter, Glenn Sakamoto (PQ), Hideki Yamane (MD) and Denna Macanas (QAD).  Denna also brought some strong, young help in the form of students with the Future Farmers of America, now known as FFA.  Mahalo to all!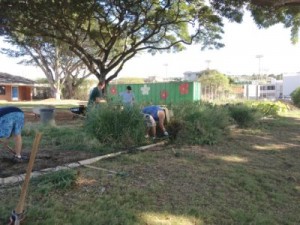 BEFORE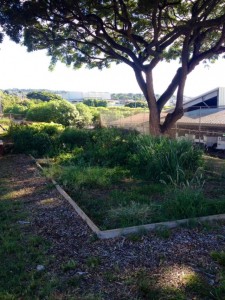 BEFORE
AFTER!
AFTER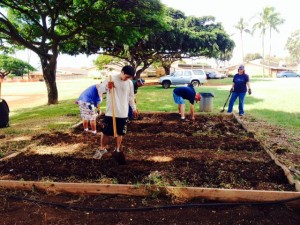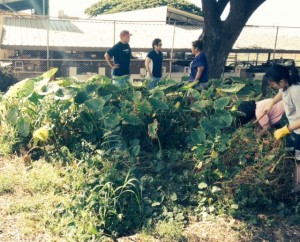 The loi – before.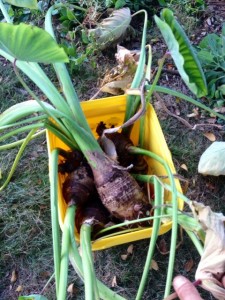 Clearing the loi also meant doing some harvesting!  Looks ono!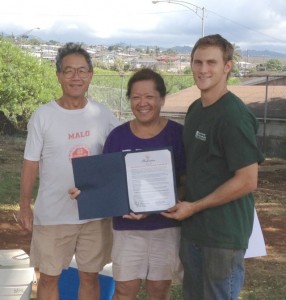 Michael Opgenorth (right) presents a proclamation from Governor Abercrombie proclaiming October as Farm-to-School Month to Sharon Aldueso, behavioral health specialist (middle) and Ron Shinmoto, or Papa Ron or Grandpa Ron to students.  Mr. Shinmoto often helps with the school garden.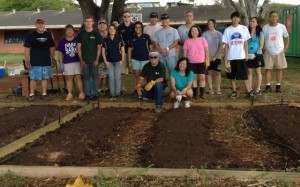 Group photo of the hardworking crew (some Aggies and some from the school) who worked from 9:00 a.m. to 2:00 p.m.  Mahalo all for your labor, expertise and willing spirit!  The students at Alvah Scott Elementary must be anxious to start planting and raising their beautiful garden.  We will check back in a few weeks to see how their garden grows!