Statewide Agricultural Baseline Project
UPDATE:
A free public presentation on this study will be held on:
Wednesday, May 4, 2016 from 6:00 p.m. – 7:30 p.m. on the University of Hawaii at Hilo campus in UCB 100.
This interactive presentation will share the findings of the 2015 Statewide Agricultural Land Use Baseline produced by the SDAV Lab at the UHH Geography Department. The baseline was produced under contract with the State Department of Agriculture to serve as a tool to inform ongoing discussion and priority setting for agricultural activities in the State. Free and open to the public.
Presenters Jeffrey Melrose, Project Manager, and Dr. Ryan Perroy, Principal Investigator, will address the following critical questions:
What happened to over 200,000 acres of former sugar and pineapple fields.
What does the new Rural Hawai'i look like and who/what controls its' agricultural future.
How has the supply of agricultural water fared in the post-plantation transition.
What forces shape the future of Hawai'i's food self-reliance.
What is the status for export and niche crops in Hawai'i's agricultural mix
For more information, please contact call Jeffrey Melrose @ 989-8322 or Dr. Bruce Mathews @ 217-7393.
For a flyer about the presentation, click here.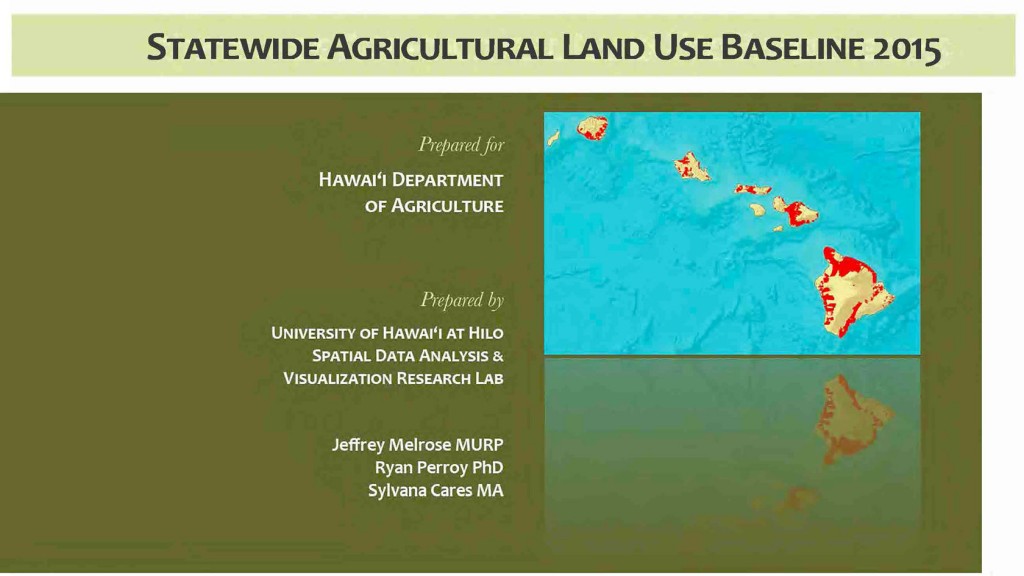 ---
The  Statewide Agricultural Land Use Baseline 2015 was produced for the Department of Agriculture by the University of Hawaii at Hilo's Spatial Data Analysis and Visualization Lab (SDAV). Using a combination of satellite imagery, related geospatial datasets, and statewide farm interviews, they produced a new digital GIS layer to identify commercial agricultural crops grown in the state. SDAV also produced a report to accompany the digital data that contains a collection of maps and graphics to depict the current state of crop production statewide.  The 2015 Baseline dataset updates the 1980 Agricultural Land Use Map (ALUM), the previous statewide agricultural GIS layer.
The 2015 Baseline is intended as a tool to promote a shared understanding of where and what Hawaii currently farms and ranches, and how Hawaii's agriculture has re-emerged following the loss of nearly 300,000 ac. of plantation agriculture over the last 35 years.
Report Map Highlights
---