Jan. 9, 2014
NR14-01
Detection and Trapping Activities Underway
HONOLULU — Another new invasive pest has been detected on Oahu, one that damages coconut trees and other palm plants. The Coconut Rhinoceros Beetle (CRB) was detected at Joint Base Pearl Harbor-Hickam on Dec. 23, 2013 during routine surveys conducted under a cooperative agreement between the University of Hawaii at Manoa* and the U.S. Department of Agriculture's Plant Protection & Quarantine (USDA-PPQ). Samples of the suspect beetle were sent to the USDA entomology laboratory in Miami and confirmation of CRB, Oryctes rhinoceros (L.), was received on Jan. 3. 2014.
Coincidentally, the discovery of the CRB happened on the same day that Little Fire Ant (LFA) was discovered on hapuu (Hawaiian tree fern) at a garden shop on Maui and subsequently confirmed on Oahu. LFA had previously been established on Hawaii Island.
Since the discovery, the Hawaii Department of Agriculture (HDOA) and the USDA-PPQ have been working jointly with the military and the University of Hawaii (UH) to survey and conduct trapping activities in the Pearl Harbor – Hickam area to determine the extent of the infestation. So far, nine adult beetles have been trapped.
It is a major pest of palms in India, the Philippines, the Palaus, Fiji, Wallis, Nukunono, American and Western Samoa and Guam. It is not known exactly how the beetles arrived in Hawaii.
"The threat of the coconut rhinoceros beetle has been a growing concern in Hawaii since it turned up in Guam in 2007," said Dr. Neil Reimer, administrator for HDOA's Plant Industry Division. "We have initiated the strong, coordinated efforts among HDOA, USDA, UH and other partners that will be required to effectively manage this invasive pest."
CRB is mainly a pest of coconut and oil palms, but may also attack other palm species. Adult CRB are dark brown in color and measure 1 ¼ to 2 ½ inches long. CRB larvae are white in color with a brown head. (Photos attached)
They damage palms by boring into the center of the crown where they injure young, growing tissue and feed on the sap. As they bore into the crown, they cut through developing leaves, causing damage to the fronds. V-shaped cuts in the fronds and holes through the midrib are visible as leaves mature and unfold.
CRB is native to the Asian tropics, but was accidentally introduced to western and central Pacific islands
Natural enemies of CRB include pigs, rats, ants, and some beetles, which may attack CRB eggs, larvae, pupae and adults. They may also be killed by two diseases, a fungus and a virus; however, both are not known to occur in Hawaii.
Suspected CRB on coconut and palm plants on all islands should be reported to HDOA's PEST HOTLINE – 643-PEST (7378). This is also a toll-free number for neighbor islands.
**CORRECTION** –   The initial news release credited UH @ Hilo, but the survey program was with UH @ Manoa.
###
***FOR MORE UPDATED INFORMATION, GO TO:  CRB INFORMATION PAGE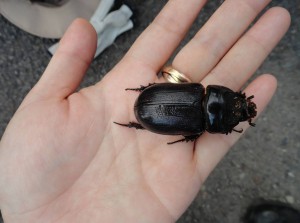 Coconut Rhinoceros Beetle
V-shaped cuts identify CRB damage.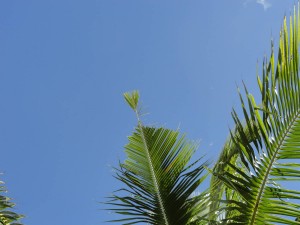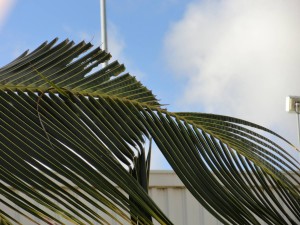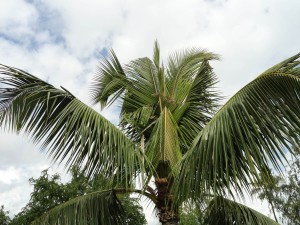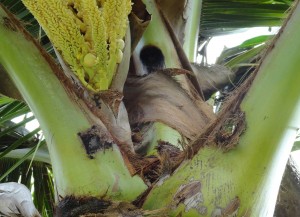 Boring holes in trunk.