HDOA Staff Far Exceeds Foodbank Fundraising Goal!!!
Posted on Apr 26, 2013 in Main

Mahalo to the compassionate and generous HDOA staff, who made donations to the Hawaii Foodbank. 
According to preliminary totals, HDOA raised $2,119.40, well over the Foodbank's goal of $813!
Also donated were 13 boxes of food and five bags of rice!
Special shout-out to the Foodbank fundraiser volunteers who planned and executed three fundraising events at the HDOA's Main Office (See photo album below):
A Brownie Ice Cream Sundae fundraiser;
A Pulled-Pork Sandwich, Baked Beans, Cole Slaw, Cornbread fundraiser; and 
A Filipino Luncheon (Pork Guisantes, Pork Adobo, Pancit and desserts.)

Animal Industry Division also had a snack jar fundraiser!
Thank you to the Foodbank committee:
Jan – Ag Loan (Coordinator)
Gayle and Ken – Chair's Office/ADC
Michelle – ASO
Cindy – ADD
Steve & Daisuke – PI/Pest
Lester – PQ
Eunice – QAD
Kristy – AI
And Mahalo to all who supported the fundraisers and who donated generously!
"When we give cheerfully and accept gratefully, everyone is blessed."
                 ~ Maya Angelou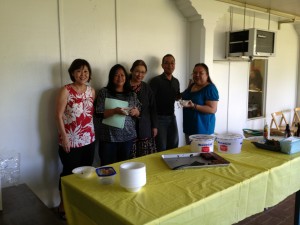 The Brownie Ice Cream Sundae fundraiser was held on Feburary 28th.  The photographer was late, so we only have a photo of the hardworking crew after they did their hard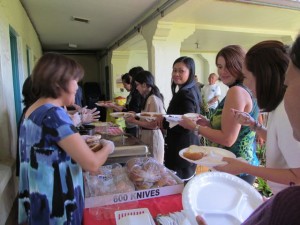 The Pulled-Pork Luncheon was held on March 13th.  Lunch included pulled-pork sandwiches and cole slaw by Jan of Ag Loan, ono baked beans by Mel of Personnel and cornbread by Gayle in the Chair's office.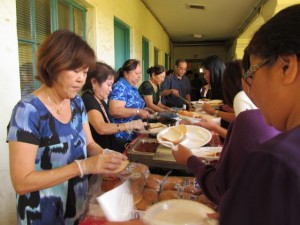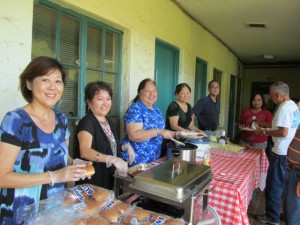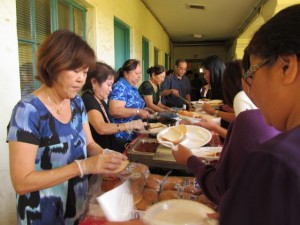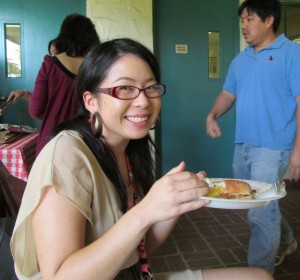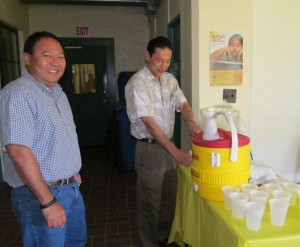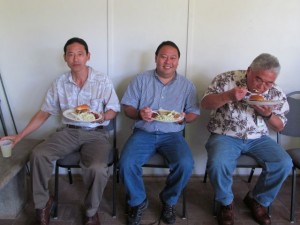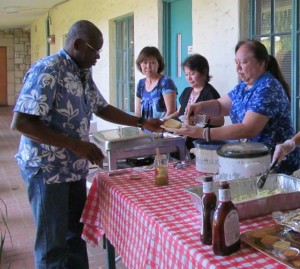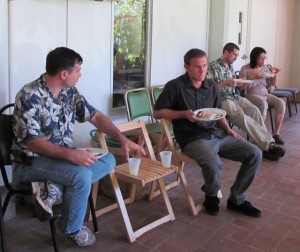 The last fundraiser was the fabulous Filipino lunch on April 8th, prepared by the husband and wife team of Ezra of PQ and Cindy of MD.  It took days to prep about 200 lbs of pork!  Lunch included pork guisantes, pork adobo and pancit. And desserts by Jan of Ag Loan, Gayle of Chair's office and Laura of ARM.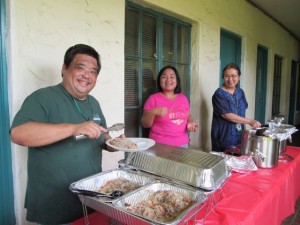 Ezra (PQ), Cindy (MD)and Laura (ARM) dish it out!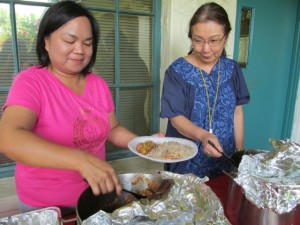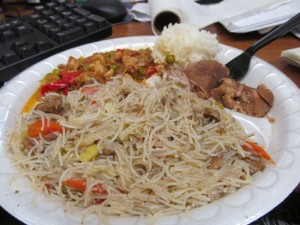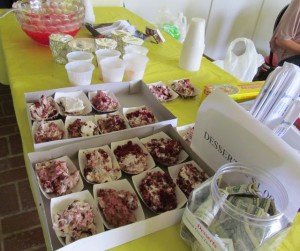 Desserts were donated by Gayle, Laura and Jan!