Plan Developed to Eradicate Little Fire Ant Infestation in Waimanalo
Posted on May 2, 2014 in Main, News-Releases
NR14-10
May 2, 2014
HONOLULU — The Hawaii Department of Agriculture today released details of the plan that has been developed to eradicate the little fire ant (LFA) infestation in Waimanalo. The multi-step plan includes preparing access routes for treatment, multiple applications of several types of pesticides over a period of one year, pesticide monitoring and continued surveying of the area. The infested area is estimated at three-and-a-half acres. The total treatment area, including a buffer zone, will cover six acres.
An extensive survey was conducted earlier this month covering more than 50 acres from Kumuhau St. to Mahailua St. in Waimanalo. The survey collected about 1,500 samples, of which 60 were positive for LFA. The infestation area is confined to state land and in mulch areas located outside of nurseries in that area. LFA was detected previously on hapuu from Hawaii Island a few nurseries and garden shops earlier this year, but those areas were treated and are now clear of LFA.
"Eradication plans require good preparation and methodical planning," said Scott Enright, chairperson of the Hawaii Board of Agriculture. "We can't just go into an infested area and just spray pesticides – there's a science to it."
Since the survey was conducted, crews from HDOA and the Oahu Invasive Species Committee have contained the infested area and have been working on habitat modification, by preparing the area and clearing access paths for treatment.
HDOA and the Hawaii Ant Lab have developed a treatment plan which will begin in mid-May using a combination of pesticide baits, including Tango ® ((S)-methoprene in gel bait matrix), Probait® (Hydramethylnon) and Siesta® (Metaflumizone). These pesticides are general use pesticides.
The area will be treated at least eight times over a 12-month period. If the area is clear of LFA at the end of the 12 months, eradication efforts will transfer to monitoring for three years.
HDOA's Pesticides Branch will take water samples from the stream throughout the treatment period to test for pesticide residue.
HDOA, and partner agencies are continuing to follow-up on leads of other potentially infested sites on Oahu. No other sites have been identified so far. Homeowners may help the state survey their yards by placing a chopstick smeared with a little peanut butter in the yard for about one hour and put the stick in a sealable plastic bag and freeze the sample for at least 24 hours and then send it to the HDOA. Surveying instructions are available on the department's website at:  https://hdoa.hawaii.gov/pi/files/2014/01/Survey-LFA-public-2014-01-29.pdf
LFA has been found on Hawaii Island since 1999. In late December 2013, LFA was detected on hapuu logs (Hawaiian fern) at retail stores on Maui and Oahu. Since its detection, Oahu and Maui nurseries have been surveyed. Five Oahu nurseries, three of which were in Waimanalo, were found to have small infestations of LFA, which were treated and are clear of the ants.
Originally from South America, LFA is considered among the world's worst invasive species.
LFA are tiny ants, measuring 1/16th inch long, are pale orange in color and move slowly. LFA move slowly, unlike the Tropical Fire Ant which is established in Hawaii, which move quickly and are much larger with a larger head in proportion to its body. LFA can produce painful stings and large red welts and may cause blindness in pets. They can build up very large colonies on the ground, in trees and other vegetation, and buildings and homes and completely overrun a property.
Suspected invasive species should be reported to the state's toll-free PEST HOTLINE – 643-PEST (7378).
For updated information on LFA in Hawaii, go to the HDOA website at:  https://hdoa.hawaii.gov/pi/main/lfainfo/
# # #
Little Fire Ant History in Hawaii
March 1999 –    A resident of Hawaiian Paradise Park on Hawaii Island turned in a tiny ant to HDOA, which identified the ant as the little fire ant, Wasmannia auropunctata (Roger).
April 1999 –   Three separate infestations of LFA were found in Hawaiian Paradise Park and was also found on a lot in Kapoho in the Puna District.
August 1999 –    LFA was found on a 20-acre fruit tree orchard in Papaikou, outside of Hilo. It is suspected that the infestation had been there for at about five years.  It was determined soon after that LFA was widely established in East Hawaii Island from Laupahoehoe to Kalapana.
October 2009 – LFA was detected on a farm in Waihee, Maui. Eradication efforts at that ½ acre site
were successful and LFA have not been detected on the farm since October 2010.
Dec. 23, 2013 –  A customer at garden shop on Maui reported a suspicious ant to the Maui Invasive
Species Committee (MISC), which sent the specimens to HDOA entomologists who confirmed the identification of LFA.
Dec. 26, 2013 –  HDOA entomologists surveyed several nurseries and stores and found LFA infestationson hapuu (Hawaiian tree fern) at several garden shops on Oahu and at another Maui store.  All infested hapuu were contained and destroyed and the areas secured.
HDOA staff revisited the stores and treated the areas with pesticides.
Through trace-back and trace-forward efforts, HDOA surveyed nurseries on Oahu and found five nurseries to have small infestations of LFA. HDOA treated the nurseries and continues to monitor the sites. The nurseries are currently clear of LFA.
March 27, 2014 – Routine surveys by HDOA staff detected LFA outside of nurseries in the Waimanalo area.
April 3 & 10, 2014 – Survey crews took more than 1,500 samples in a 50-acre area in Waimanalo. Four acres were found to be infested.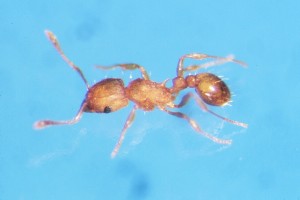 Little Fire Ant