Two More Coqui Found on Oahu and Three on Kauai
Posted on May 2, 2014 in Main, News-Releases
NR14-09
May 2, 2014
HONOLULU — More coqui frogs were captured this week – single frogs in Kahaluu and Waimanalo on Oahu and three at a nursery on Kauai.
On Oahu, one coqui was found on a boat which was dry-docked at a home in Kahaluu.  It was at the same site where another coqui was caught on April 2. The coqui had been quiet for a few weeks until the homeowner heard it again this week and a crew from the Hawaii Department of Agriculture (HDOA) captured the frog on Monday evening, April 28.
On Tuesday, April 29, a Waimanalo nursery called HDOA inspectors to report a coqui frog calling.  HDOA asked a member of the Oahu Invasive Species Committee (OISC) to check out the report and he was able to capture one coqui frog.
On Kauai, a nursery contacted the Kauai Invasive Species Committee (KISC) to report possible coqui frogs and on Tuesday evening, April 29, a field crew from KISC captured three coqui frogs. But they were not able to capture one or possibly two more frogs that night. Last night, a joint crew from KISC and HDOA went back to the nursery but were not able to hear any frogs.
"It is important to report suspected coqui frogs as soon as possible," said Scott Enright, chairperson of the Hawaii Board of Agriculture. "Our experience proves that the sooner we hear about it, the easier it is for us to eradicate coqui infestations."
Suspected invasive species should be reported immediately to the state's toll-free PEST HOTLINE –
643-PEST (7378).  To hear what a coqui frog sounds like, go to: https://www.hear.org/AlienSpeciesInHawaii/species/frogs/
# # #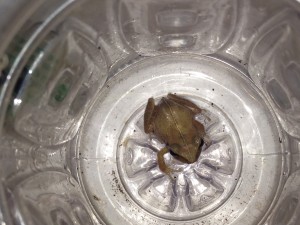 Coqui Caught on Kahaluu Boat on April 28, 2014