Live Bat Found on Container Ship
Posted on Aug 3, 2017 in Main
NR17-13
August 3, 2017
HONOLULU – A small live bat was found Tuesday morning, Aug. 1st, on a container ship that arrived at Honolulu Harbor from San Diego. The crew aboard the Pasha Hawaii ship was able to capture the bat and the company called inspectors from the Hawaii Department of Agriculture (HDOA) at about 7:45 a.m.
When HDOA inspectors arrived on the ship, the crew had covered the bat with a Styrofoam cup that was covered by a safety cone with a glove over the top to prevent the bat from escaping.
The body of the brown and black bat measured about three inches long. Tissue samples from the bat were sent to a laboratory on the Mainland to test for the rabies virus. (UPDATE: the test result was received this afternoon and it is negative for rabies.)
The species was identified yesterday by the Bishop Museum as a Western pipistrelle [Parastrellus (Pipistrellus) Hesperus] which is found in the Western United States and Mexico.
"We appreciate the sharp eyes and swift action taken by the Pasha Hawaii crew," said Scott Enright, chairperson of the Hawaii Department of Agriculture. "Even one small animal, like this bat, can introduce diseases to Hawaii that may pose threats of disease to humans, as well as other animals and native species."
In 2006, a live bat was captured after flying from a Mexican container ship through an open window at Aloha Tower.
In 2011, a live bat was found in a container of radishes from Korea.
In 2012, a live bat was found in the interisland terminal at Daniel K. Inouye International Airport.
Rabies is a fatal viral disease of mammals most often transmitted through the bite of a rabid animal. Hawaii is the only state and one of the few places in the world that is rabies free. There are also diseases in bats that pose a threat to the endangered native Hawaiian hoary bat.
Sightings or captures of illegal and invasive species should be reported to the state's toll-free Pest Hotline at 643-PEST (7378).
# # #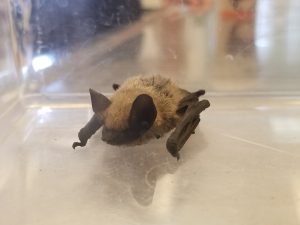 Photo of Western pipistrelle bat found on container ship