Small Snake Found at Honolulu Harbor
Posted on Jun 12, 2018 in Main
NR18-08
June 12, 2018
HONOLULU — A live snake was captured yesterday at Pier 32 at Honolulu Harbor near newly arrived vehicles on the dock. Plant Quarantine inspectors from the Hawaii Department of Agriculture (HDOA) picked up the snake at about 11:45 a.m. yesterday after a car dealership employee reported the snake which had already been captured and was in the custody of Harbor Police.
The snake measured about a foot long and 1/4 to 1/2 inch in diameter. It is being safeguarded at the Plant Quarantine Branch. Species identification is still pending. (Update: the snake has been identified as a Western terrestrial garter snake.)
The initial report indicates the snake was found yesterday under a vehicle which arrived at the dock on Friday, June 8th from California. Inspectors conducted a thorough search of the vehicle and other vehicles in the surrounding the area and no other evidence of snakes were found.
Last week, a five-foot-long ball python was found by county workers in Hilo near the South Hilo Sanitary landfill. That snake is also being held at the Plant Quarantine Branch in Honolulu. Both snakes will be used for educational purposes until arrangements can be made to ship them out of Hawaii.
Snakes have no natural predators in Hawaii and pose a serious threat to Hawaii's environment. Many species also prey on birds and their eggs, increasing the threat to endangered native birds. Large snakes can also be a danger to the public and small pets.
Anyone who spots an illegal animal or knows of someone with an illegal animal should call the State's toll-free PEST HOTLINE at 643-PEST (7378). Individuals harboring illegal animals are encouraged to turn them in under the State's Amnesty program by dropping them off at any Plant Quarantine Office, municipal zoo or humane society, no questions asked.
# # #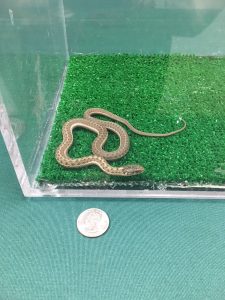 Western terrestrial garter snake