Snake Found in Shipping Container on Hawaii Island
Posted on Apr 25, 2014 in Main, News-Releases
NR14-07
April 25, 2014
HONOLULU — A live snake was discovered and captured yesterday afternoon at a Keaau store on Hawaii Island. Workers offloading a 40-foot shipping container saw the two-foot-long brown snake and prevented its escape by hitting it. The snake, which has been identified as a non-venomous gopher snake, has since died and was shipped to Honolulu this morning. The shipping container arrived from California.
"We appreciate the quick action taken by store employees to stop the snake's escape," said Scott Enright, chairperson of the Hawaii Department of Agriculture. "Hitchhiking snakes are a constant concern for the department. This situation demonstrates how important it is for all of us to be on the lookout for invasive species."
Snakes are illegal in Hawaii. Snakes have no natural predators in Hawaii and pose a serious threat to Hawaii's environment. Many species prey on birds and their eggs, increasing the threat to endangered native birds. Large snakes can also be a danger to the public and small pets. 
Gopher snakes are commonly found in North America and may grow up to about seven feet. Their diet consists of small rodents, young rabbits, lizards, birds and their eggs. Prey is killed by constriction and suffocation.
Anyone with information on illegal animals should call the state's toll-free PEST HOTLINE at 643-PEST (7378). Individuals who have illegal animals are encouraged to turn them in under the state's amnesty program, which provides immunity from prosecution. Illegal animals may be turned in to any HDOA Office, municipal zoo or Humane Society – no questions asked and no fines assessed. 
# # #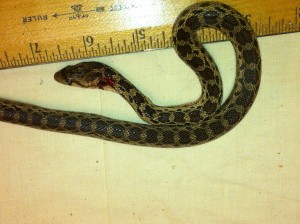 Gopher snake found in shipping container on Hawaii Island